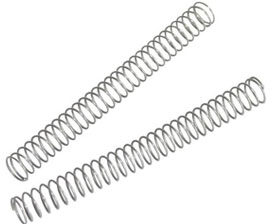 If you want to protect your precious hoses against bending, choose high-quality anti-kink springs. At VIOD we have a wide range of anti-kink springs. Moreover, we are very capable of customizing your springs. We are the spring specialist in the Netherlands for a reason.
Expert in customization
Anti-kink springs have an important function. They protect your hoses and increase their lifespan. VIOD was founded in 1950 and has a very modern factory where we can make your springs to measure. We can supply them with a pitch along the entire length or with the turns wound against each other. Whatever your wishes, at VIOD you will receive a quality product.
High quality anti-kink springs
VIOD is an expert in high-level customization. We are flexible and fast and always deliver by appointment. The fact that our springs meet high quality standards is evidenced by the fact that we:
Be NEN-ISO 9001 certified
Comply with Lloyds register
Be appreciated nationally and internationally

Contact
Would you like to use custom anti-kink springs? Please contact us. We explain the possibilities for you. Use the contact form or email to info@viodveren.nl.
Interested in our Anti-kink Springs? Contact us.
"*" indicates required fields