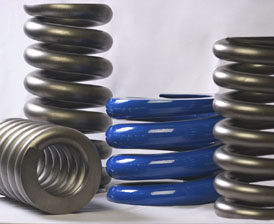 Stamp Springs
Looking for high-quality compression springs that can withstand high loads and have a long service life? Then the stamping springs from VIOD springs are very suitable. Due to the ability to withstand large impacts, for example in confined spaces, die springs are often used for special applications.
Very extensive program
VIOD springs is one of the largest spring producers in our country. In addition to producing springs, we develop and test a wide and unique range of springs.

More information
Are you curious which die springs are most suitable for you? Or do you have another question regarding (the operation of) the die springs? Please feel free to leave us a message via the contact form.
Interested in our Stamping Springs? Contact us.